Hi my beach beauties! So it's probably spring break for most of you and I'm sorry this probably won't help then, but if you still need a swimsuit I've got your back. So these will be most accommodated to my body type which would be athletic: smaller chest and thicker legs, but with rocking abs. This are great because you need to look cute for that boy! Maybe, or you just want to look nice on the beach which is awesome too. Let's get started!
1. Billabong Jade Stringer Bikini (Top and bottoms are $29.95, total is $59.90 at Pacsun)
So this is just a really cute bikini and I really like the design. I like the triangle top because it gives better coverage in my opinion, and the bottoms are cute too. I do recommend getting a larger size in swimsuits in general (Don't worry, you're still a skinny mini!) because of the shrinkage and coverage. My biggest tip is TRY IT ON! Unless you're absolutely sure/ have no other options, which is not good. At least go into the store and see if it's available there. It might be awkward, but think of all the other awkward situations you're avoiding.
2. Beach Sexy Ruffle Push-Up Bandeau Bikini (Top $36.50, Bottoms $20.50, total $57.00 at Victoria's Secret)
I LOVE VICTORIA'S SECRET BIKINIS. They're seriously so cute and so worth the money. I will admit, it might look a little risque in the store, but they are so nice. I really like this pair, even though I probably would try to avoid the bandeau thing. Bad experience, especially since I got nothing going on up top. You can figure it out. My rule now is the bandeau needs a tie behind the neck as well as the middle clasp. This is floral and polka dots! How can you say no?
3. Balboa Island Swim Triangle Bikini (Top $24.50, bottoms $19.50, total $43.00 at Hollister)
Okay I admit, I'm not a huge fan of Hollister but last year, my roommate had the cutest bikini from Hollister so I decided to branch out this year. This one is really cute, it's blue with this lighter blue pattern on it and I think it will look great on the beach.
4. Atomic Hottie Bikini (Top $74.00, bottom $58.00, total $132.00 at Betsey Johnson)
I love Betsey Johnson soooooooooooo much, it's undeniable. This will look so cute in the sun and against a tan. The pattern is really nice and I really like it.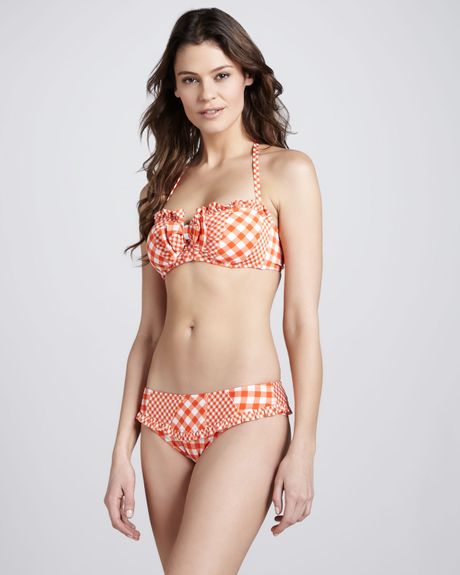 Okay that's all I've got this time! See you next time, XOXO.